We all have a habit of celebrating our festivities advance. However, this is beneficial to all because we will have a significant number of days to enjoy. For this Black Friday, we've compiled a list of the top FREE and Premium Audio Plugin Deals. Take advantage of these limited-time free and premium offers and have fun making music.
1. MONSTER GUITAR BY MONSTER DAW - FREE
In this month, Monsteer guitar was one of the biggested launch. It comes with number of presets and beautiful GUI interface. Number of producers are liking it and using in their sound. Recently they have recently released new presets.
Note : Please follow the instructions given on the page to install the plugin.
Enjoy !!! Its Awesome.
2.Unison Free Black Friday Pack
Unison Free Black Friday Pack – Including 465 unique samples, MIDI's and presets.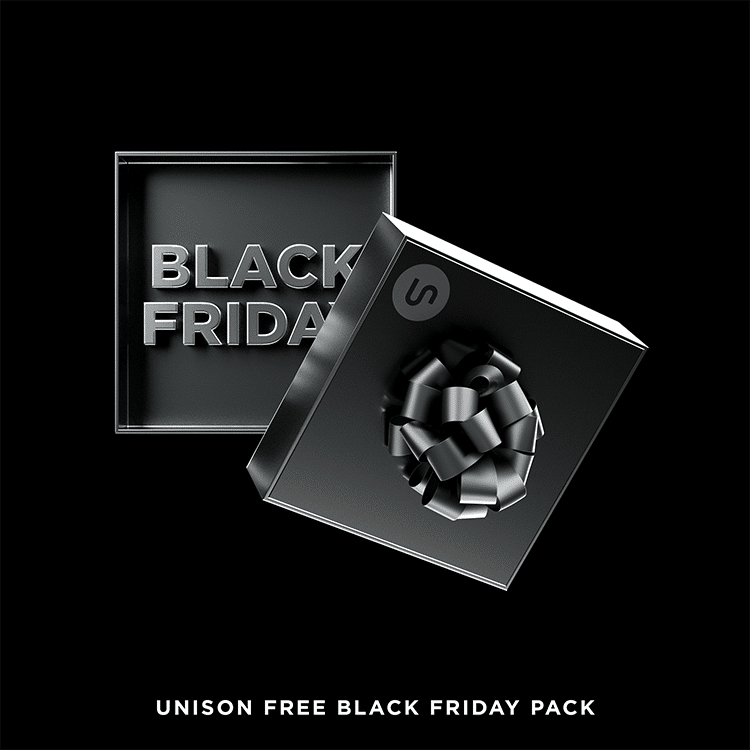 What's inside the Unison Free Black Friday Pack?
40x Advanced Scales MIDI Files

75x Artist Series Samples

15x Bass Loops

15x Drum Loops

36x Famous MIDI Chord Progressions

15x Melody Loops

36x MIDI Basslines

36x MIDI Chord Progressions

10x Full MIDI Drum Kits / 58x MIDI Drum Patterns

36x MIDI Melodies

12x Omnisphere Presets

55x Unique One-Shots (In C, E & G#)

20x Serum Presets

16x Vocals
Offer duration : Not available
3. 16 FREE SAMPLE PACKS BY SLATE DIGITAL
COMPITABE WITH
Offer ends on : 31.12.21
4. Fruit Shake by Insession Audio - ITS FREE
Fruit Shake presents four fruit-shaped shakers and one carrot (for your good health!) in an easy-to-use interface based on our Shimmer Shake Strike percussion engine. Designed for the Free Kontakt Player platform, Fruit Shake is a musical, fun and simple way to add shaker sounds to a song, and is available at no cost for a limited time.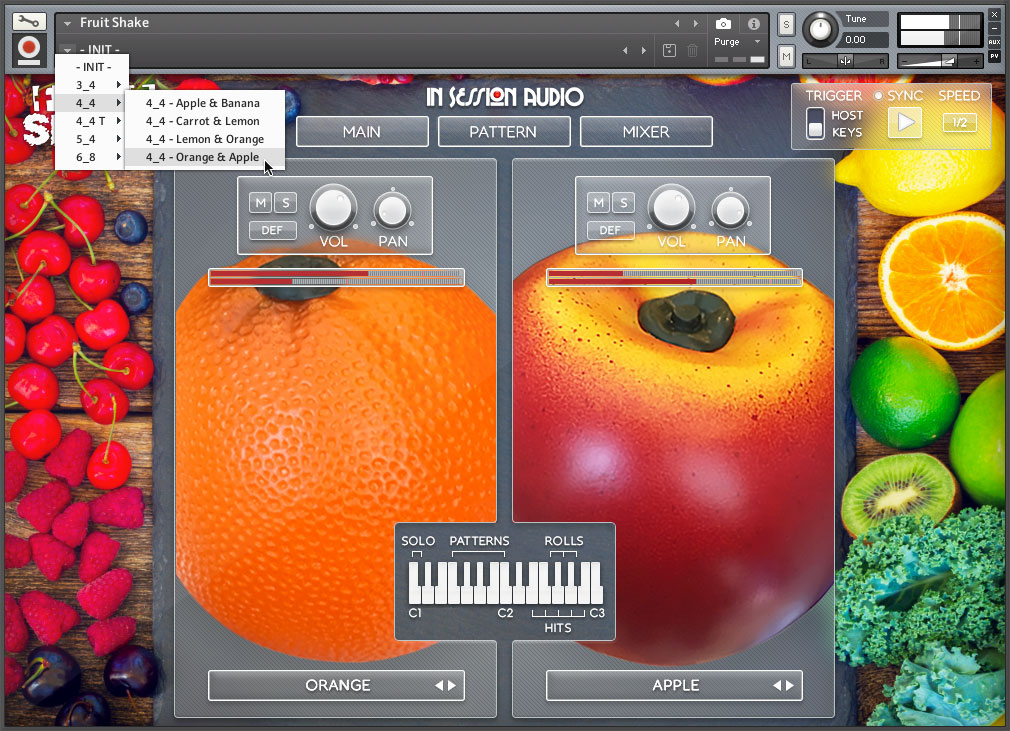 Offer duration : Ends on November 24, 2021
5. FREE Phrases Compilation by SONUSCORE
Free Sonuscore Phrases Compilation contains a colourful mix of phrases featuring 5 different instruments: Cello, Violin, Dong Xiao, Duduk, and Lute.
SYSTEM REQUIREMENTS
Full version of Native Instrument's KONTAKT 5 (version 5.8.1 or higher) – NOTE: The free KONTAKT PLAYER is NOT sufficient.

Intel Core 2 Duo processor recommended

Mac OSX.10.11 or higher | Windows 7 or higher

4GB RAM and at least 182MB of free hard disc space
6. FREE Berzerk Distortion by Waves
When you're producing a new beat, playing around with a synth line, or putting together song ideas on the fly, you often need that kick of inspiration, that sound which redefines the project and takes the music forward. Berzerk includes 10 unique shapes, each with its own personality.
The 'Go Berzerk!' button creates random variations in each waveshape, letting you personalize the signal.
7. Free - Drum One by Rigid Audio
Drum One Drumsynthesizer/Sampler for Kontakt 6.4.2.
8. Thanksgiving 2021 Freebies by Echo Sound Works
Gift 1: Percussion Toolkit | The Percussion Toolkit V.1 comes with 100 one shots ranging from hard to find world instruments to custom-processed and layered sounds. We also included 50 loops at various tempos, perfect for when your tracks need a little spice.
Gift 2: Impact | POWERFUL collection of impacts for genres like House, Pop, Future House, Future Bass, Trap, etc.
Gift 3: Toy Piano for NI Kontakt | It is perfect for genres like Trap, Drill, Latin, Pop, and so much more.
Gift 4: Reese Basses | The "Reese Bass" or detuned saw bass, is probably one of the most used synth sounds of the past 5 years. And there's a good reason for that. It works in almost any genre. Reese Bass comes with 20 Serum presets and 15 Vital presets. Anyone who produces modern music is going to love this pack!
9. Black Friday Freebies and Offers by ADSR
There are a number of free plugins available here, as well as Black Friday offers on premium plugins that save you up to 86 % off the original price. A handful of the ones listed here are highly recommended. Before the deal expires, go to the link and see if you need it.
10. Loop Cloud 3 Free Drum Packs
Sign-up for a Loopcloud monthly subscription during Black Friday, and you'll get instant access to three iconic Loopcloud DRUM packs from legendary institutions in electronic music.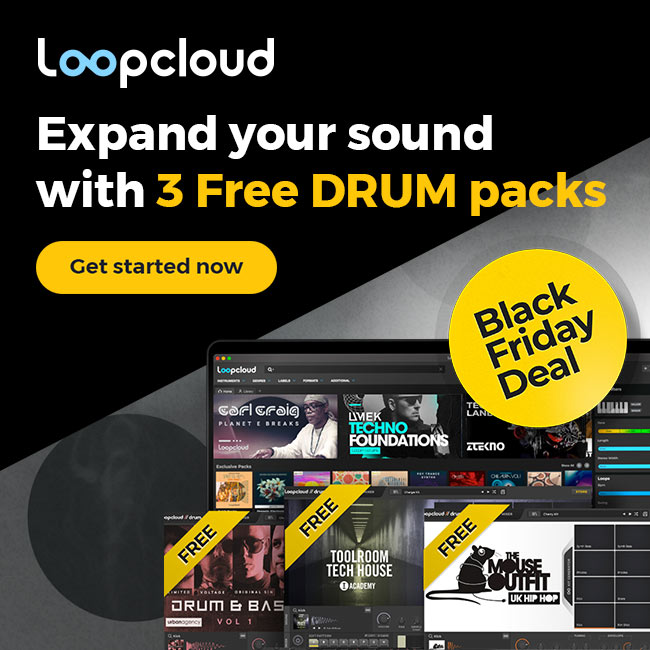 Loopcloud has launched its greatest Black Friday deal yet, with new and existing Annual Plan. Customers getting a special copy of the Loopmasters KHORDS plugin (Priced at $89) , free extra credits, and other prizes.
Bonus Loopcloud Points | 2,000 points total for our Artist Plan, 5,000 points total for our Studio Plan and 10,000 points total for the Pro Plan.
Free Sound Pack | Find fresh inspiration with 1,000 of Loopcloud's best-loved samples, one-shots and loops spanning genres from house to hip-hop.
Free Loopmasters KHORDS plugin | Add real texture and character to your music with this ultra-flexible instrument, boasting 550 inspirational chord presets and much more.
3 Free Exclusive DRUM Packs | Transform your productions by generating powerful rhythms in seconds with packs from Toolroom Records, Urban Agency and The Mouse Outfit.
2 Month Producertech All Access Membership | Solidify your production skills with a diverse range of courses and studio masterclasses.
Loopcloud's Black Friday Deal is available now to both existing and new subscribers, through until December 6th.
Monthly: from just £5.99 / €6.99 / $7.99
Annual: from just £59.99 / €69.99 / $79.99
11. Waves Plugins
Get an offer upto 50% when you purchase four plugins. But thats not the deal because we are providing you additional code that will lower the total amount by 10%.
Get additional 10% offer with this code: YNY23
At a time, one coupon code can be applied and can be used for an unlimited period of time. The prices will be reduced when the coupon code is applied!
Pluginbox recommendations:
- H-Reverb Hybrid Reverb - $29.99
- Flow Motion FM Synth - $29.99
- Bass Slapper - $29.99
- OVox Vocal ReSynthesis - $47.99
12. Melda Production - 50% OFF Everything
On the official website of Melda Production, one can get 50% OFF on Everything! Including Bundles. This sale ends on 30 November 2021!
Offer ends on: 30th November 2021
13. FL Studio Bundle Offer by Image-Line
FL STUDIO Black Friday Sale | New customers get FL Studio All Plugins Edition + Bonuses for just $399.
Offer ends on : 30th Nov 2021
14. iZotope | Deals are starting at $9.99
Industry-leading plugins including Ozone Elements, Neutron Elements, RX Elements, and Nectar Elements plus creative staples like Trash 2 and Iris 2, legendary Exponential Audio reverbs like PhoenixVerb and R2, and hundreds of sounds and presets are available at huge discount.
A. Iris 2 Synth | Offer Price : $9.99
Create and discover musical sounds that have never been heard before. An inspiring sample-based synthesizer, Iris 2 is immediately playable—combining the power of a sampler, the flexibility of a modular synth, and the fun of spectral filtering.
Operating Systems: MacOS 10.13.6 High Sierra - MacOS 11.6 Big Sur (*Intel Macs or Apple Silicon Macs in Rosetta mode only) (64-bit only) | Windows 7 - 10 (64-bit only)
Plugin Formats: AU | VST | VST3 | AAX | RTAS
Offer Price : $9.99
B. BreakTweaker Expanded Drum Machine | Offer Price : $9.99
Designed by BT and developed by iZotope, BreakTweaker is not just a drum machine: it's a drum sculpting and beat sequencing environment that blurs the line between rhythm and melody. Give your beats an ever-evolving depth that gets better the longer they play. Use rhythmic slicing to drive everything from pitched melodic lines to sweeping rhythmic overtures.
Operating Systems: MacOS 10.13.6 High Sierra - MacOS 11.6 Big Sur (*Intel Macs or Apple Silicon Macs in Rosetta mode only) (64-bit only) | Windows 7 - 10 (64-bit only)
Plugin Formats: AU | VST | VST3 | AAX | RTAS
Offer Price : $9.99
15. WA PRODUCTION
WA PRODUCTION has announced Black Friday Offer with a huge discount on selected products. One may find offers at as low as $5 only.
16. Ugritone
Sitewide Extra 20% OFF | Coupon Code : UPBBLACK20
Ugritone is famous for making plugins, virtual instruments and sound packs for music producers. More than 75 products have been made by Ron D. Rock and Toni Kauko.
During this festival time, one can get additional 20% OFF on the Black Friday Deal on any of the product.
Coupon Code : UPBBLACK20 | Ends on 15th December
Enjoy the Black Friday offers and don't forget to give your review in the comment box.
Cheers !!!
MORE OFFERS WILL BE UPDATED DAILY