In this article, we are sharing some of the latest as well as popular FREE VST | AU | NI REACTOR | REASON PLUGINS plugins.
1. GR-8 by Phuturetone
GR-8 is an 8 voices virtual analog synthesizer with built-in effects and an arpeggiator.
Features:
Arpeggiator: 5 Modes (Up, Down, Alt 1, Alt 2, Random), 4 Octaves Range.
Voice Modes: Mono, Unison (8 voices), Chord (4 stereo notes), Poly (8 voices).
Voice Effects: Glide, Legato, Voice Detune, Voice Stereo Spread.
Oscillators: OSC 1 (Tri, Saw, Pulse, Square), OSC 2 (Sine, Saw, Pulse, Noise).
Oscillator Effects: Cross Modulation (FM), Pulse Width Modulation (PWM), Sync.
Filters: Non-resonant High Pass, Resonant Low Pass (12, 18, or 24 dB/Octave).
Modulation: Pitch Bender, Mod Wheel, LFO, 2 Envelopes.
Effects: EQ, Distortion, Phaser, Chorus/Flanger, Delay, Reverb.
Presets: 88.
2. Philthy by Phuturetone
Philthy is a Monophonic VA Synth for NI Reaktor
3. Phutura by Phuturetone
Phutura 2 is Polyphonic DCO Synth for NI Reaktor
4. Monica 3 by Fanan Musical Solutions
Monica 3 is an analog dual-layered 90's style synth with 2 completely different aggressive and incredibly high dynamic range oscillators. The first oscillator is wavetable based with 50 wavetables + additional 50 wavtables for morphing. The second is an old style 8 waveforms pad oscillator that emulates the 90' type monster pads. The oscillators work on dual-layered basis and have each own separate controls, synthesis section, chords driven pattern sequencer and some more new features.
5. CollaB3 by Sampleson
CollaB3 is a free vintage tonewheel organ emulation. It was a collaborative project made from scratch to help music makers around the world. CollaB3 features a detailed reproduction of noises, clicks, leakage, rotary speaker and tonewheel. Chorus and reverb are also included. Download now and enjoy!
System Requirements
macOS : OSX 10.7 or later (Catalina-ready)
Windows : Windows 7 or later
1. Aleatoric Kontakt Instrument by Loot Audio
"Aleatoric Metamorphic Movement" is a multi-voiced textural Kontakt instruments. By making use of contemporary sound-shaping methods, AMM brings gritty atmospheric sampling into the modern era. Fundamentally, AMM contains four individually adjustable sample sources, each housing an abundance of fully modulatable parameters.
Requirements :
Full Kontakt 6.4.2 or above

4.1 GB available HD space
Important Note: Full version of NI Kontakt 6.4.2 and above is required.
List Price :$67.00

Offer Price : $19.00
2. MUZE Essentials Bundle
The Essentials bundle is an inspiring collection of Kontakt instruments excellent for music, sound design and cinematic composition.
It is developed for use with the full version of Kontakt 5.8 or higher, this bundle is an all-in-one resource for crafting soundtracks, cinematic music, epic music trailers – in fact any music that requires powerful, inspirational, hybrid sounds and more.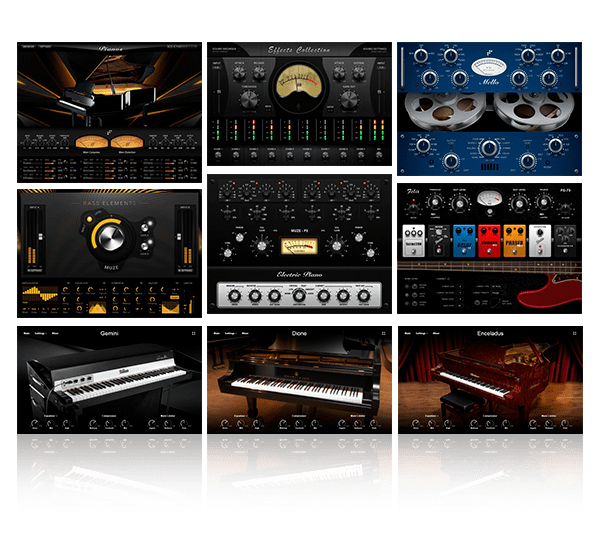 MUZE Essentials Bundle includes Bass Elements, Acoustic Pianos, Electric Pianos, Bass Guitar, Mello, PE Enceladus, Effects, PA Dione, PE Gemini - OVER 128GB sized Kontakt library.
Requirements :
Massive 9 Pack Collection

Total Size: 128+ GB

71,178 high quality samples

100% royalty free rights

Requires the full version of Kontakt 5.8 or higher
List Price :$300.00

Offer Price : $39.99
3. Blossom Kontakt Instrument by Loot Audio
Blossom by Audiowarp is the result of years of recording, re-recording and twisting countless numbers of vintage synths to produce something truly unique sound. All the sounds within Blossom were recorded and post affected using only vintage outboard analogue equipment.
Requirements :
4850 Samples
11.6GB
7 Global Effects
Intelligent Randomisation
Arpeggiator
Requires the full version of Kontakt 5.8 or higher
List Price :$69.00

Offer Price : $19.00
More Free Deals
You may find these free plugins quite interesting and want to introduce it to your next track. Watch the demo video before downloading.
1. Filterstep Filter by Audiomodern
Filterstep is a modern motion filter plugin that provides a great deal of potential for all kinds of intricate rhythmic movement.
It can give you incredibly complex and nuanced results based on various filter effect settings, and almost infinite possibilities for sonic exploration and movement randomization.
System Requirements
Mac OS X 10.12 or higher

Windows 7 or higher

At least 50 MB of free drive space

VST/VST3/AU/AAX/Standalone

64 & 32-bit compatible
2. Action Tremolo
Action Tremolo is an advanced pan and volume modulation unit with an analog saturation engine. Easy to use, simple and highly customizable UI controls make it a total voodoo.
PLENTY OF USES: Stereo Enhancement, Fade In / Out, Looped innovative effects, Distorted Textures, Rare sound effects, Side Chain and much more possibilities are available on Action Tremolo. With unique advanced modulation options and analog character, Action Tremolo is a multi-purpose beast!
Requirements:
- macOS 10.9.5 Mavericks or above | VST, AU, AAX plug-in formats
- Windows 7 64-bit or above | VST, AAX plug-in formats
- 4 GB RAM / 2 GB free space on the system drive
- Min. 1024x768 Screen Resolution
3. Sweetcase - ELECTRIC PIANO
Sweetcase is a virtual instrument plug-in that takes your electric piano parts very easy level and realistic right in your computer, with the warm, professional vintage sound quality!
It is warm, realistic and extremely customizable professional vintage electric piano sound with nice special 3D GUI. It has Sustain Level & Hold Time Envelope controls Algorithmic Reverb, Phase Modulation, Sleek Parametric Eq.
Requirements:
- macOS 10.9.5 Mavericks or above | VST, AU, AAX plug-in formats
- Windows 7 64-bit or above | VST, AAX plug-in formats
- 4 GB RAM / 2 GB free space on the system drive
- Min. 1024x768 Screen Resolution
4. Fresh Air by Slate Digital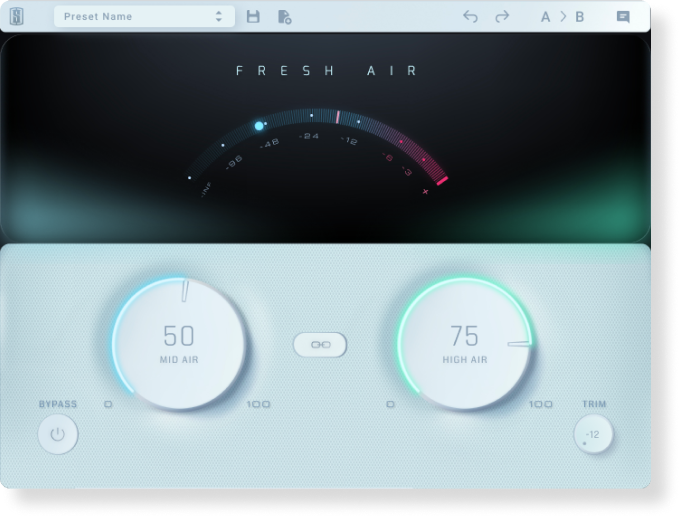 Fresh Air is a dynamic high-frequency processor that breathes new life into your mix with just two knobs. Based on vintage exciter circuits and advanced dynamics processing, Fresh Air lets you add just the right amount of brilliance & shine to your mix in a simple interface you can start using right away.
For a limited time, we're giving Fresh Air away FOR FREE! Create a free account on Slate Digital and you'll be making incredible mixes with Fresh Air in seconds.
5. Odin 2 by The Wave Warden
With a deep synthesis engine, endless modulation capabilities, Odin 2 is one of the favorites free synths of many electronic producers. It provides a variety of sounds that suits to prepare background score, Dubstep and many more.
The sound of this 24-voice polyphonic beast will take you from your studio right to Valhalla. Earth-shattering basses, exquisite leads or mad FX, Odin's got them all! Use the classic sound of analog waveforms - or draw your own. High-quality emulations of legendary analog filters like the Moog-ladder or the Korg-35 further shape your signal. Round your sound off with four onboard FX, or get crazy with modulation. There's much to discover in Odin 2.
It covers about every type of synthesis out there:
Three Osc Slots: Choose from eleven different modules
Draw Oscillator Waves / Spectra
Three Filter Slots: High-quality analog filter emulations (Ladder, KRG-35, SEM and more).
FX Included: Delay, Phaser, Flanger, Chorus and Distortion.
Flexible Routing
Four ADSRs and LFOs
XY-Pad
Big Modulation Matrix
Arpeggiator
Preset Library
6. L12X Solid State Amplifier by Audiority
L12X is an analogue simulation inspired by the Marshall® Lead 12™ solid state amplifier of the late '80s. The original head was an op-amp based amplifier: instead of using tubes or transistors, the op-amp is able to provide a huge amount of gain with very little or no distortion. However, when the amplified signal reaches the voltage applied to power the op-amp, it gets clipped.
System Requirements
Mac - OSX 10.8 or later | Windows - Windows 7 64-bit or later
64-bit only

Intel i5 or higher

2GB RAM

Screen resolution: 1024×768

VST2, VST3, AAX 64-bit host
Special discounted deals
1. Vocal Finalizer
Original Price : $129.00 | Offer Price : $29.90 | Save $99.00
Vocal Finalizer is designed for holding "Vintage & Modern Characters - Simplicity - Wide Usability Range – Time-Saving" properties together. All of the used pieces in this combination are carefully crafted to give everything you need to reach a final ready to mix vocal sound from a raw vocal track.
It contains different variations of the top 7 most popular vocal effects on a single unit with the right settings and right amounts.
It is QUICK, SIMPLE & ELIT
Requirements:
- macOS 10.9.5 Mavericks or above | VST, AU, AAX plug-in formats
- Windows 7 64-bit or above | VST, AAX plug-in formats
- 4 GB RAM / 2 GB free space on the system drive
Original Price : $129.00 | Offer Price : $29.90 | Save $99.00
2. SpeakerSim
Original Price : $129.00 | Offer Price : $29.90 | Save $99.00
SpeakerSim is a realistic emulation of different types of speakers with their own acoustics and environments. This processor can be used for these purposes: Checking your mix in different monitor systems, Music productions, TV or Movie audio post productions.
There are 18 speaker emulations
Three bullhorn / megaphone types, computer, cellphone, vintage phone, jukebox, answering machine, headphone, radio, car, toy, mini guitar cabinet, wireless walkie talkie, turn table and some room sounds are all in one plugin.
Requirements:
- macOS 10.9.5 Mavericks or above | VST, AU, AAX plug-in formats
- Windows 7 64-bit or above | VST, AAX plug-in formats
- 4 GB RAM / 2 GB free space on the system drive
- Min. 1024x768 Screen Resolution
Original Price : $129.00 | Offer Price : $29.90 | Save $99.00
Equalization of audio is one of the crucial parts of audio processing. EQ is the easiest way to shape the tracks in your audio mix so they fit together. Here we have listed FIVE Free EQ Plugins that you can download it at one place.
1. 4U+ Dynamic TiltEQ by HOFA-Plugins
HOFA 4U+ DynamicTiltEQ is the best freeware Tilt EQ. It can do everything the legendary analog models could. Use just one knob for the perfect balancing of low and high frequencies on the highest audio level.
System Requirements
Audio Unit, VST, VST3, RTAS and AAX, 32 and 64 Bit.
HOFA Plugins are tested constantly on the following DAWs: Steinberg Cubase/Nuendo/Wavelab, MOTU Digital Performer, Ableton Live, Apple Logic, Magix Samplitude/Sequoia, Avid Pro Tools, Cakewalk Sonar, Presonus Studio One, Cockos Reaper, FL Studio
2. Blindfold EQ EQ by AudioThing
Blindfold EQ has 4 bands (LowShelf, LowMid, HighMid, HighShelf), but each knob is blind. There are no indicators or numbers to show frequency values, gain values or Q values. You have to use your ears.
System Requirements
Mac
OS X 10.7 – macOS 10.15

Intel Core 2 Duo, 2 GB RAM

VST2, VST3, AU, or AAX, 64-bit host
PC
Windows 7, 8, 10 (64 bit)

Intel Core 2 Duo or AMD Athlon 64 X2, 4 GB RAM

VST2, VST3, or AAX, 64-bit host
3. Voxengo Marvel GEQ by Voxengo
Marvel GEQ is a linear-phase 16-band graphic equalizer AU and VST plugin with multi-channel operation support (supporting up to 8 input/output channels, audio host application-dependent). Marvel GEQ offers extensive internal channel routing capabilities and supports mid/side channel processing.
System Requirements
This plug-in is compatible with Windows (32- and 64-bit Windows XP, Vista, 7 and later versions) and Mac OS X (10.5 and later versions, 32- and 64-bit, Intel processor-based) computers (2 GHz dual-core or faster processor with at least 1 GB of system RAM required). A separate binary distribution file is available for each target computer platform for each audio plug-in specification.
4. Blue Cat's Triple EQ EQ by Blue Cat Audio
Blue Cat's Triple EQ is a 3 bands semi-parametric equalizer that can be controlled in real-time with MIDI or automation: it is capable of absolutely zipper-free clean and continuous time-varying equalization with no latency.
System Requirements
Mac OS
Intel processor

Mac OS 10.7 or newer (Catalina and Big Sur are both supported)

VST / VST3 / Audio Unit / AAX compatible DAW (32-bit or 64-bit)
Windows
5. SplineEQ FREE EQ by Photosounder
This free version only has up to 4 bands as opposed to up to 60 bands. Also, the free version cannot open or save presets.
System Requirements
Windows:
Mac:
VST 2.4 (32/64bits)

Audio Unit

Important Note: macOS 10.15 Catalina and macOS 11 are NOT supported.
FREAK:

SONIC MUTATION
Three sound-bending modulation types offer retro radio lo-fi and wild sidechain ability, alongside classic AM, ring mod, and frequency shifting techniques.

Create detuned horror-style vocals, rich metallic timbres, rhythmic sidechain, and more

Add a whole universe of noise and inharmonic content to harmonic signals

Radio mode: Demodulation of signals offers the sound of vintage broadcasts or alien transmissions

Stereo modulation feature – particularly effective on percussion