We've prepared a list of the most recent and popular Free Kontakt Instruments in this article, as requested by many of our subscribers. It's potential that you'll find it intriguing and want to try it on. For additional details, see the demonstration video. Many of these instruments are only compatible with Kontakt Full Version. Act quickly, because some of the offers are only available for a limited time.
Our aim is to save the time of music producers so that they can focus on making music. If you don't own the full retail version of Kontakt, just download and save these instruments in your external drive so that, in the future, if you purchase the full version, these instruments will be useful and something new may come out of the box.
1. DIONYSUS Acoustic Piano by MUZE – FREE
DIONYSUS comes with a flexible user interface that allows you to control all aspects of the sound and fx (layering, morphing, blending all kinds of sounds with each other). DIONYSUS contains 55 Sources which includes the Bechstein D Grand piano, Hords, Keys, Guitars, Mallets, Bells, E Pianos & more
Features
24.81 GB (Lossless compression) library size with 12982 samples
12 Built-in Effects: Compressor, Delays, Reverb, Limiter, Cabinet, Gainer, Rotator, Stereo Panner, 3-Band Equalizer & more
55 Sources: Bechstein D Grand piano, Hords, Keys, Guitars, Mallets, Bells, E Pianos
Requirements
8 GB Ram more if need of
loading more sample sets)
CPU Intel i5 or equivalent Mac
or PC

Kontakt Retail Version: v.5.8 or newer
DIONYSUS Acoustic Piano by MUZE for just FREE (instead of $99.99)
2. PERCUSSION ELEMENTS 3 by Splash Sound
PERCUSSION ELEMENTS 3- is a Free Try Pack of the library EPIC PERCUSSION 3. It includes one of the drum kits from Epic Percussion 3 library.
It also includes 28 built-in rhythm loops for the fastest arrangement of rhythm sections. One can also optimize the user interface for intuitive access to all instrument functions.
System Requirements
The full version of Kontakt 5.7.3 or higher (NOT COMPATIBLE WITH FREE KONTAKT PLAYER)

Mac OSX.10.10 or higher or Windows 7 or higher

4GB RAM

At least 4GB of free hard disc space
3. Heritage Percussion by Impact Soundworks
Heritage Percussion instrument requires the full version of Kontakt. One can add texture and nuance to the track with a FREE collection of 13 heirloom hand percussion instruments: shakers, claves, rattles, djembe and more.
Content:
13 hand percussion instruments

Recorded in crisp 24-bit fidelity

Djembe, rattles, claves, shakers

Open, muted, and rim djembe strikes

Superb detail: up to 5 dynamics and 10 RR

Close and room mic positions
Features:
Beautiful new user interface

Create your own custom drum mapping

Adjust the tone and envelope for each drum

Newly-expanded CONSOLE FX rack and mixer

Now includes premium delay, reverb, and compression

Create the perfect mix with no external plugins
Requirements:
4. A FREE TASTE OF DRUM FURY by Sample Logic
Taste of DRUM FURY by Sample Logic is a free single Taiko Drum Ensemble instrument straight out of the apocalyptic collections of drums found in DRUM FURY.
It works on the Full Retail version of Kontakt, version 5.8.1 or higher. It will not work on the free Kontakt Player. Only 62 MB free disk space for TASTE THE FURY is required.
5. Shreddage 3 Stratus by Impactsoundworks
This is the ultimate FREE electric guitar sample library for KONTAKT! It includes deep-sampled sustain, palm mute, and choke articulations with 3 octaves of playing range, up to 24 samples per note, and tons of performance options.
It works on the Full Retail version of Kontakt, version 5.7 or higher. It will not work on the free Kontakt Player.
Requirements:
KONTAKT (full version, not Kontakt Player) version 5.7 or higher

1GB disk space

4GB RAM
6. HYBRID KEYS by Native-Instruments
Native Instruments has joined forces with iZotope. As a part of the celebration, they are providing iZotope Ozone Elements and Native Instruments HYBRID KEYS free for a limited time! Plus get a $25 voucher for both online shops.
HYBRID KEYS blends sampled pianos, synthesizers, mallets, and more, adding creative effects to produce completely new sounds.
Spark inspiration with extensive presets, then have fun building your own hybrid instrument by blending sounds and adjusting unique controls – dial in some dirt, add reverb, or go lo-fi with tape warble and noise. By generating unconventional textures, you'll find new, creative ways to integrate keyboard parts into your mix.
Product type: KOMPLETE Instrument (included with the full version of KONTAKT 6)
For use with: The latest version of the free KONTAKT PLAYER.
Number of Sounds: 76
Number of Presets: 100
Preset Categories: Acoustics, Electrics, Harpsichords, Mallets, Organs, Synthy
Download size: 3.7 GB
System requirements: Free KONTAKT PLAYER or KONTAKT (Version 6.1 or higher)
7. PALETTE – PRIMARY COLORS by Redroom Audio
"Palette – Primary Colors" is a FREE 1.3 GB taste of what you'll get in larger Palette libraries.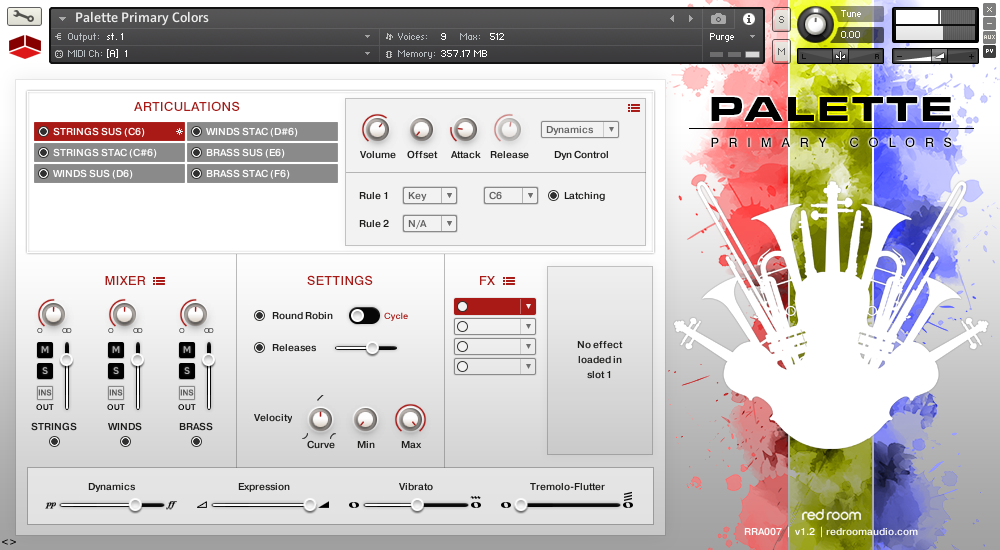 It features strings, woodwinds, and brass ensembles with a limited set of articulations and a single microphone position, but the same 3 dynamic layers and up to 7 round robins included in the larger products, so you can get a sense of the rich sound and depth of sampling you can expect with the entire lineup.
Requirements:
Full NI Kontakt

, version 5.6.8 or above

2 GB disk space | 2 GB RAM (4 GB recommended)

Your system must also meet the requirements for version 5.6.8 of Kontakt. If you cannot run that version, you will not be able to load this library.
8. SNAPS CLAPS SLAPS STOMPS & SHOUTS by Redroom Audio
"Snaps Claps Slaps Stomps & Shouts" is a vocal and body FX virtual instrument for the full version of Kontakt. It contains various snaps, claps, chest and knee slaps, stomps and 12 shouted words.
The GUI features several sample tweaking and manipulation controls including volume, pan, pitch, attack, release, layering, convolution reverb and 5 key switched FX.
Requirements:
NI Kontakt or Kontakt Player, version 5.6.8 or above

200 MB disk space

2 GB RAM (4 GB recommended)

Your system must also meet the requirements for version 5.6.8 of Kontakt. If you cannot run that version, you will not be able to load this library.
9. The Free Orchestra by Projectsam
The Free Orchestra offers a solid gigabyte of free, cinematic sounds taken directly from ProjectSAM's acclaimed libraries, ranging from orchestral string staccatos and brass clusters to symphonic percussion and dystopian sound design.
Note: The Free Orchestra now comes with a Kontakt Player license! This means that The Free Orchestra can be used in its intended form, without limitations, by every musician with a computer. The Free Orchestra requires the Free Kontakt Player 6.2.1 or higher.
10. Free Kontakt Libraries by Wavesfactory
A collection of free Kontakt instruments is available on the official website of Wavesfactory.
There are seven free Kontakt instruments. All libraries are simple but unique. Enjoy !!!
1. Rigid Audio Complete Loop Bundle by Rigid Audio
This bundle includes Six Kontakt Instruments, Supine (5.8 GB), Cinematrix (3.2 GB), Synferno (3 GB), Sore (3.2 GB), Acoustic Isolation (2.2GB) and Plethora (3.2GB).
In this exclusive bundle, a huge variety of cinematic synthesizers and thousands of presets will provide you with sweeping granular synth sounds, ambient textures, rich basses, and futuristic sound design, all of which are directly customizable and easy to modulate from within each Kontakt instrument.
Important Notes:
The full version of Native Instruments Kontakt 6.2.2 or above required to run this software.

This software will not function in full within the FREE Kontakt Player engine and will only be available in DEMO mode.
The price of the 6 products if bought individually: $524.00
Discounted bundle price (Ends on 31st May 2021): $9.00
1. Designbundle - Lifetime Offer by Primesuperdeals
DesignBundle is the ultimate design suite that contains 10 different designing tools. Create a website, graphics, logos, Gifs and many more using the powerful Design Bundle online application.
Following tools are included in this bundle:
1. Landing Page Builder
2. Graphics Designer
3. Logo Creator
4. eCover Creator
5. Mockup Creator
6. Scene Creator
7. Stock Explorer
8. Flexible Image
9. eBook Creator
10. Video to GIF Creator
Original Price: $197.99 Annually | $39.99 Monthly
Get it now at a discounted price ($47 only) with bonus applications.