This article provides a list of plugins that have recently been released. These plugins have a fantastic user interface and a bunch of useful features.
1. Groovemate ONE by UJAM
Groovemate is a percussion instrument. It comes with
30 Styles – Combi Style and Solo Styles

4 Sounds (Shaker, Claps, Tambourine, One-Shot shaker)

9 Mix & 4 Ambience Presets

MIDI Drag and Drop
Get to know the Groovemate ONE features.
Pick a Preset - Create your music without overthinking! Pick any inspiring preset and get to work instantly.
In Sync - Trigger patterns that are instantly and perfectly in sync with the rest of your session.
Make your songs shine - Get ready to move, shake, rattle, and roll!
System Requirements
Operating Systems
Windows 7 or later (64-bit only)
macOS X 10.11 or later (macOS 11 Big Sur supported) (64-bit only)
Minimum Requirements
Plugin Formats
Original Price : $19.00
Offer Price : $9.00
2. XTT by VINAI - W.A Production
Italian brothers, Alessandro & Andrea Vinai, bring their production talents and distinctive sound to the software realm, with this versatile compression plugin in collaboration with W. A. Production.
It comes with
5-Band Compressor
Surgical Shaping
Upward & Downward Compression
Time
Limiter
Linked In & Out Faders
Bypass & Master Mix
Visual Feedback
Presets
Original Price: $39.90
Offer Price: $19.00
System Requirements
Windows 7 or higher (32 / 64 bit)

Mac OSX 10.7 or higher (32 / 64 bit)
Please Note: The AAX version of XTT requires ProTools 11 or higher.
3. Fluid Pitch Pitch Shifter by Pitch Innovations
Fluid Pitch is an innovative next-generation MIDI Pitch bend system for all musicians using any standard MIDI keyboard. Give your MIDI keyboard a Smarter Pitch bend Wheel + the Micro Tuning Edge + MPE capabilities. Fluid Pitch introduces the World's first Scale-Locked-Pitch-Bend system powered by a MIDI to MPE upscale engine. Now musicians no longer have to think about which scale or where they are using the pitch bend wheel, Fluid Pitch always takes you to the right note!
System Requirements
Mac
OS X 10.9 and above

AU, VST, VST3
PC
Original Price: $75.00
Offer Price: $39.00
4. DelSane Delay by Rob Papen
DelSane is a delay effect plugin that offers far more than your average Delay FX – of which there are plenty available on the market today!
System Requirements
PC : Windows 7 / 8 / 10
Formats:
VST (32 & 64-bit)
AAX (Note: PC AAX for PT 12 or higher) (64-bit only)
Mac : OS-X 10.12 - 11 (Big Sur) (64-bit only)
Formats:
Original Price: $35.00
Offer Price: $29.00
5. DRUM FURY 2 by Sample Logic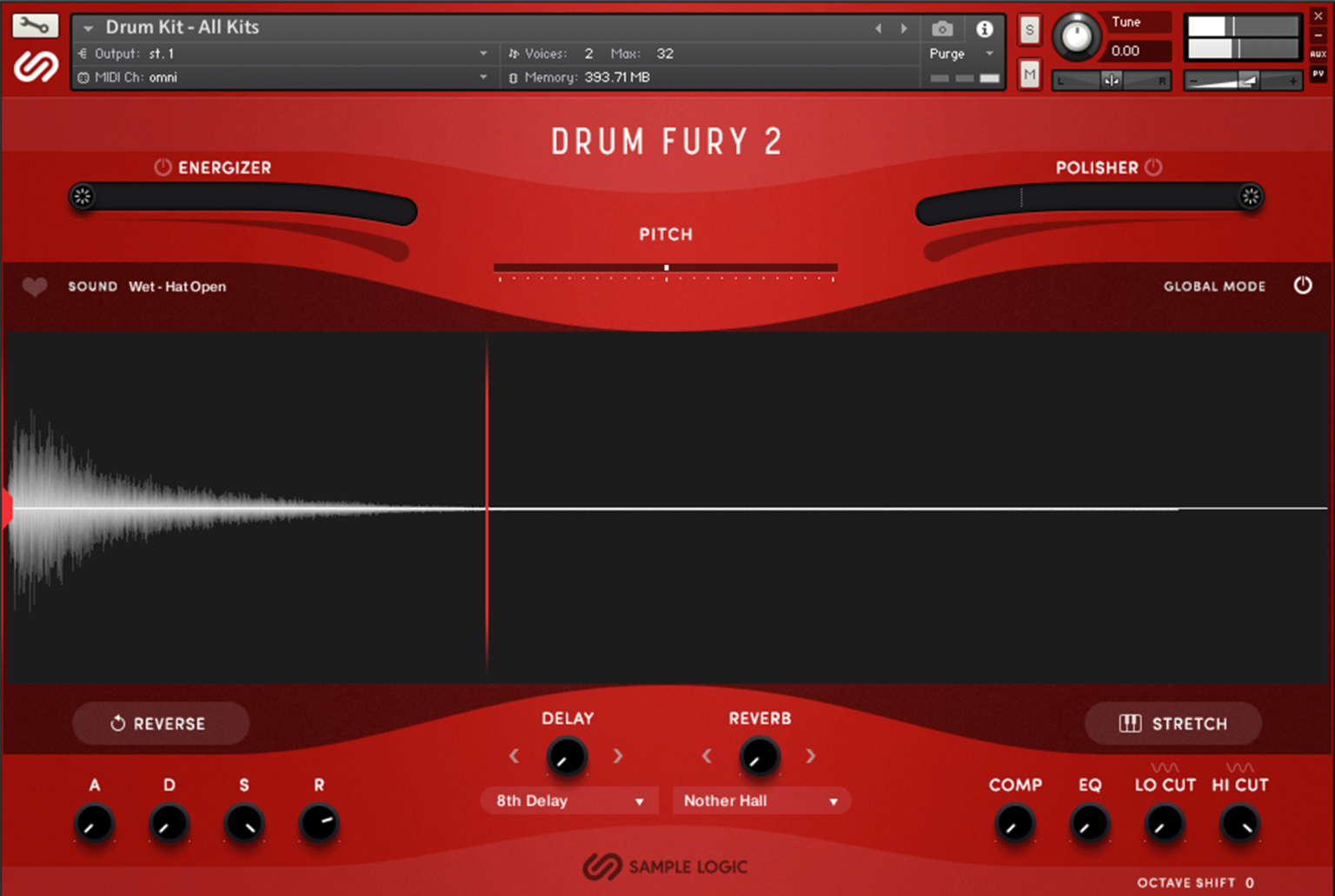 DRUM FURY 2 is an extensive collection of over 50 deeply-sampled world drums and found sound percussive instruments. From diverse drum and synth kits to more unusual and rarely-sampled world percussion, this collection delivers hard hitting sounds, but with the finesse and nuance to complement more delicate compositions.
DRUM FURY 2 includes 51 multi-sampled instruments (expandable to 438) built from 3,426 audio samples, resulting in a 1.6 GB sample library. All samples are delivered at 44.1kHz/24-bit.
SYSTEM REQUIREMENTS
Full paid version of Kontakt, version 5.8.1 or higher. It will not work in the free Kontakt Player!

Mac OS X 10.11, i5, 4 GB RAM (6 GB recommended)

Windows 7, 8, 10, Intel Core i5 or equivalent CPU, 4 GB RAM

1.6 GB free disk space for DRUM FURY 2 sample content
COMPATIBILITY (Mac 64-bit only; Windows 32/64-bit)
Stand-alone

VST

(AU) Audio Units

AAX
Original Price: $129.99.00
Offer Price: $69.99