Every month, we receive free plugins and express our gratitude to the developers for sharing their musical talents with us. We hope that everyone who utilises free plugins gives thanks to the hardworking people behind the scenes. In this post, we'll show you some more amazing plugins that might take your music to new heights. Many people ask about my background. I will share seperate article for this soon. Enjoy !!!
1. MONSTER Bass by Monsterdaw
It's a FREE BASS VST with 3 sound categories (Synth Bass, Electric Bass, and Acoustic Bass) suitable for any music genre and for all Music Arrangers and Music Producers!
It's a ROMpler VST, meaning it's a simple sampler without too many parameters, just a simple and basic one like Filter, ADSR, Glide knob, and a simple LFO! There are 25 Preset in this version 1.0, ranging from Synth Bass sound, Electric Bass sound, and Acoustic Bass sound (more to come in later version).
Plugin Formats and the DAWs that can use this plugin:
VST on Windows or Mac: Cubase, Nuendo, Ableton Live, Bitwig Studio, FL Studio, Studio One, Reaper, Cakewalk, Mixcraft, Reason, Tracktion, etc (Don't forget to check if your DAW is 32 bit or 64 bit too).
Audio Unit (AU) on Mac: Logic Pro, GarageBand, Studio One, Ableton Live, Reaper, Digital Performer, etc.
RTAS or AAX: Please use VST to AAX converter like Blue Cat's PatchWork.
2. T-De-Esser Plus by Techivation

The T-De-Esser Plus has the same functionality as the original T-De-Esser, but the interface now displays the upcoming premium features.
These features will be available shortly in the paid upgrade, T-De-Esser Pro. The T-De-Esser Plus has one of the Pro features activated, the 'Audition' (Delta-listening) feature, which is free to use.
You can use T-De-Esser Plus to:
Remove harshness from sound sources that were closely mic'd

Manage sibilance in vocals and dialog in a transparent manner

Treat irregular tonal balance caused by poor recording quality and more
It is made for | Windows 7 and up as 32 / 64-bit VST and VST3, and 64-bit AAX (PT11 and up).
It is made for | Mac OS X 10.14 (Mojave) – macOS 11.2.2 (Big Sur) as 32/64bit VST, VST3 and AU, and 64-bit AAX, Intel, and M1 Rosetta 2 Macs
3. Solo Trumpet by Norrland Samples
Solo Trumpet sample library, made for the FULL version of Native Instruments Kontakt 5.8.1 or later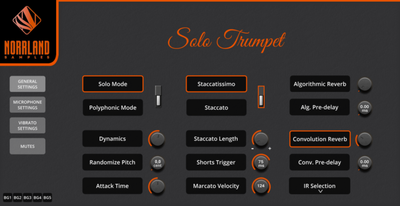 It has True legato, sustains, staccato, staccatissimo and marcato articulations.
4. GEM MOD by Over Loud
GEM MOD simulates the legendary Dimension modulation unit, beyond the original hardware.
To get your GEM MOD free copy you must be logged-in. If you do not have an Overloud account, please create. After clicking on DOWNLOAD FOR FREE, One will get an email with the download link and the activation code.
FREE From

September 21st to 27th

| 1000 licenses per day only.


Reg. price $99 after September 27th!
4. The House Piano by Echo Sound Works
It comes with 9 easy to use macros that allow you to quickly tweak the sound to perfectly match your productions.
Features :
Transient - use this macro to add a snappy pluck to the attack of the sound. Perfect when you need the piano to cut through a mix.

Bowed Keys - This macro adds a sustained layer to the notoriously short M1 piano sound.

Synth Keys - This macro adds a synthesized key sound to the main M1 piano.

Effects - Filter out high frequencies with the LP Filter and add some dimension with the reverb control.

Performance - These three macros allow you to fine tune the performance of the piano to fit your playing style or MIDI.
REQUIRES THE FULL VERSION OF KONTAKT.

Download size is about 400 MB.
5. Vinyl Guitar by Echo Sound Works
Vinyl Guitar is a character guitar plugin. We sampled a guitar through an actual vinyl record player and then made a playable instrument out of those samples.
Features:
Fret Noise - Use this macro to control the level of the fret noise you hear when changing notes and chords.

String Buzz - This macro adds buzz to some strings randomly to more accurately recreate the sound of a real guitar.

Pick Noise - This macro adds a picked attack to the start of the sound.

Reverb - The reverb knob is a dry wet knob. The reverb settings panel opens a pop up box allowing you to dial in other settings.

Attack/Release/Dynamics - This section of the GUI allows you to change how the guitar plays to fit your playing style or MIDI.
1. Sektor Synth by Initial Audio
Sektor is a polyphonic wavetable synth plugin with a highly intuitive user interface and a lot of customization features. Sektor was built to use a low amount of system resources while having a massive high-quality sound.
Windows: Windows 7 or higher | MacOS: OS X 10.6 or later - 64-bit only | 4GB Ram
VST2 or AU compatible DAW such as Logic, FL Studio, Reaper, Reason, Cubase, Ableton Live, Bitwig, Machine, MPC Ren and many more?

Standalone App

Supports the new MPE Midi Standard
Offer Price : $19.00 (instead of $139)